Прозрачный JPopupMenu внутри прозрачного окна - альтернатива?
Я не уверен, возможно ли это, но есть ли способ безопасно позволить всплывающим окнам быть прозрачными, даже если родительский контейнер также является полупрозрачным?

Если не,what would be wise alternative to use or extend instead of JPopupMenu?
Замечания:Translucent относится к компоненту, не имеющему «фон», подобному эффектуsetOpaque(false);, Благодарю.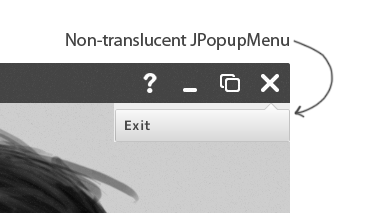 От форума ответ пользователяcamickr в 2009:
I don't know if transparency painting has changed in 1.6.0_10. Prior to that I believe transparency can only be achieved in lightweight components (ie. Swing does all the painting). JFrame, JWindow and JDialog are not lightweight because they use OS components.
In the case of a popup, it is lightweight when entirely contained within its parent frame. But a lightweight popup can not be painted outside the bounds of the frame so a JWindow (I believe) is used as the popup, which can't be transparent.
SSCCE: Отображение прозрачного JWindow поверх прозрачного JFrame
import com.sun.awt.AWTUtilities;
import java.awt.Color;
import java.awt.Graphics;
import java.awt.Graphics2D;
import java.awt.RenderingHints;
import java.awt.event.ActionEvent;
import java.awt.event.ActionListener;
import javax.swing.*;

public class OpaqueWindowSSCCE {

    private int countdown = 5;

    public static void main(String[] args) {
        new OpaqueWindowSSCCE();
    }

    public OpaqueWindowSSCCE() {
        final JFrame frame = new JFrame("OpaqueWindowSSCCE");
        final JWindow window = new JWindow();

        new Timer(1000, new ActionListener(){

            @Override
            public void actionPerformed(ActionEvent e) {
                if(--countdown == 0){
                    frame.dispose();
                    window.dispose();
                    System.exit(0);
                } else {
                    frame.repaint();
                }
            }

        }).start();

        frame.setContentPane(new JPanel() {

            @Override
            public void paintComponent(Graphics paramGraphics) {
                super.paintComponent(paramGraphics);
                Graphics2D g = (Graphics2D) paramGraphics.create();
                g.setRenderingHint(RenderingHints.KEY_ANTIALIASING, RenderingHints.VALUE_ANTIALIAS_ON);
                g.setColor(new Color(50, 50, 50));
                g.fillRoundRect(0, 0, getWidth(), getHeight(), 10, 10);
                g.setColor(new Color(180, 180, 180));
                g.drawString("Closing in " + countdown + " seconds", 20, 25);
            }
        });

        window.setContentPane(new JPanel() {

            @Override
            public void paintComponent(Graphics paramGraphics) {
                super.paintComponent(paramGraphics);
                Graphics2D g = (Graphics2D) paramGraphics.create();
                g.setRenderingHint(RenderingHints.KEY_ANTIALIASING, RenderingHints.VALUE_ANTIALIAS_ON);
                g.setColor(new Color(180, 180, 180));
                g.fillRoundRect(0, 0, getWidth(), getHeight(), 10, 10);
            }
        });

        frame.setUndecorated(true);

        ((JComponent) frame.getContentPane()).setOpaque(false);
        ((JComponent) window.getContentPane()).setOpaque(false);

        AWTUtilities.setWindowOpaque(frame, false);
        AWTUtilities.setWindowOpaque(window, false);

        window.setAlwaysOnTop(true);

        frame.setBounds(200,200,500,500);
        window.setBounds(600,600,200,200);
        frame.setVisible(true);
        window.setVisible(true);
    }
}

Ответы на вопрос(

1

)
Error: User Rate Limit ExceededJWindowError: User Rate Limit Exceeded
import java.awt.*;
import java.awt.event.*;
import javax.swing.*;

public class WindowExample
{
    private JWindow window;
    private JLabel updateLabel;
    private int count = 5;
    private Timer timer;
    private int x;
    private int y;
    private ActionListener timerAction = new ActionListener()
    {
        public void actionPerformed(ActionEvent ae)
        {
            updateLabel.setText("Closing Window in " + count + " seconds...");
            count--;
            if (count == 0)
            {
                timer.stop();
                window.setVisible(false);
                window.dispose();
            }   
        }
    };

    private void createAndDisplayGUI()
    {
        final JFrame frame = new JFrame("Window Example");
        frame.setDefaultCloseOperation(JFrame.EXIT_ON_CLOSE);

        frame.setUndecorated(true);
        frame.setOpacity(0.5f);
        frame.addMouseListener(new MouseAdapter()
        {
            public void mouseClicked(MouseEvent me)
            {
                x = me.getX();
                y = me.getY();
                window = new JWindow();
                JPanel contentPane = new JPanel();
                JLabel positionLabel = new JLabel(
                    "X : " + me.getX() + " Y : " + me.getY());
                updateLabel = new JLabel("TImer");  
                contentPane.setLayout(new BorderLayout(5, 5));
                contentPane.add(updateLabel, BorderLayout.CENTER);
                contentPane.add(positionLabel, BorderLayout.PAGE_END);
                window.setContentPane(contentPane);
                window.setOpacity(0.5f);
                window.setSize(200, 100);
                window.setLocation(x + window.getWidth(), y + window.getHeight());
                window.setVisible(true);
                count = 5;
                timer = new Timer(1000, timerAction);
                timer.start();
            }
        });

        frame.setSize(500, 500);
        frame.setLocationRelativeTo(null);
        frame.setVisible(true);
    }

    public static void main(String... args)
    {
        SwingUtilities.invokeLater(new Runnable()
        {
            public void run()
            {
                new WindowExample().createAndDisplayGUI();
            }
        });
    }
}

Error: User Rate Limit Exceeded WARNING I AM GETTING
C:\Mine\JAVA\J2SE>javac -d classes src\OpaqueWindowSSCCE.java
src\OpaqueWindowSSCCE.java:1: warning: AWTUtilities is internal proprietary API and may be removed i
n a future release
import com.sun.awt.AWTUtilities;
                  ^
src\OpaqueWindowSSCCE.java:68: warning: AWTUtilities is internal proprietary API and may be removed
in a future release
        AWTUtilities.setWindowOpaque(frame, false);
        ^
src\OpaqueWindowSSCCE.java:69: warning: AWTUtilities is internal proprietary API and may be removed
in a future release
        AWTUtilities.setWindowOpaque(window, false);
        ^
3 warnings